Ethics & Integrity Initiative
Ethics in action creates character
Character.org recently received a 3-year grant from the School for Ethical Education to increase ethical awareness and behavior in society by advancing the ethical education of young people. The Character.org staff and board are excited to implement a range of initiatives to inspire and equip students of all ages to "live their values."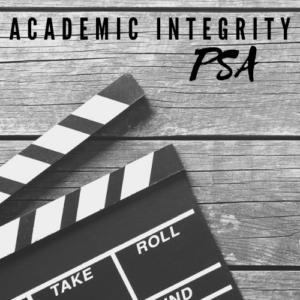 Academic Integrity PSA Program
The Academic Integrity PSA Program is an opportunity for high school students across the world to create their own message about the importance of academic integrity, honesty, and ethics in action.
The PSA should focus on the positive benefits of academic integrity rather than the negative consequences associated with cheating.
April 15, 2022 – Submission deadline
Open to all high school students
PSAs should be 45-60 seconds in length
There is no cost to participate
Leadership Academy for High School Students
Character.org is bringing together high school juniors from across the United States to develop a social media campaign on a core value that the students select. Fueled by student voice, the purpose of the campaign is to reach "hearts and minds" via "impressions and hits."
Webinar Series – Creating a Culture of Integrity
These free webinars are open to anyone interested in learning how to create a family or school culture where young people resist the pressures to lie, steal, or cheat.
The first webinar will be held in February, 2022
Open to all
There is no cost to participate
Meet Dr. Debra Cohen
John Winthrop Wright Director of Ethical Education
When I left the corporate world to embrace my passion and become a full-time K-12 educator, my goal was to "grow good humans." While teaching and working with students in the areas of English/Language Arts, Social Studies, and gifted education, I was determined to help my students become ethical citizens who would make positive contributions to the world. Now, as a member of the Character.org team, I'm able to bring my passion for character and ethics to a greater universe of students, teachers, and school leaders.