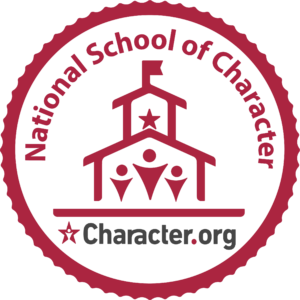 What Is A School Of Character?
Schools Of Character is Character.org's prestigious annual recognition program that honors schools for implementing best practices to support character formation in their learning community.
Schools of Character meet criteria based on our 11 Principles Framework for Schools, an evidence-informed framework based on decades of research and proven results. The 11 Principles has helped and guided thousands of schools around the world to develop a comprehensive and sustained character initiative that is intentional, involves all school stakeholders, and is woven into all aspects of the school's culture, teaching and learning.
Our certification process provides an integrated approach to plan, implement, assess, and sustain a school's commitment to character development. The 11 Principles provides the framework, but each school chooses their own values, practices and strategies.
Schools of Character Involve the Whole Community
Why Apply to be a School of Character?
Schools function best when students and educators treat each other with kindness, respect, integrity, and embrace other character strengths when learning together. Being recognized as a School of Character means all staff, students, and parents have made the commitment to create a school culture that intentionally emphasizes and models a wide range of character strengths. More importantly, you are raising good citizens, good neighbors, and leaders of integrity that will positively impact your community for generations to come.
National Schools of Character are recognized at our International Forum, held annually, and on our website and social media.
Schools have access to a multitude of valuable benefits, including:
Being part of a network of schools committed to embedding character into all aspects of school life.
Professional feedback on your progress by our team of evaluators – all educators with Schools Of Character experience.
Personal Guidance from our Character.org staff to help customize your character journey.
Being recognized as a leader in the field of character development in schools.
Opportunities for outreach including sharing best practices with others

and on our website, becoming trained Character.org evaluators, and mentoring schools new to the program.

A digital promotion package

 

including web graphics, social media messages, newsletter blurbs, and email templates to help schools share the news.
An on-site promotion package

 

including banners, flags, guidebooks, t-shirts, mugs, bumper stickers, and more.
More Benefits of Becoming a School of Character
More than 3 million educators, students, parents and community members across the country and internationally have been positively impacted by being involved with a School of Character. Over the years, school and community stakeholders have shared with us three significant benefits:
A palpable "ethic of caring" defines the school culture
Staff members use the word "family" to describe the culture of their school. Students perceive their teachers and staff as caring. Discipline reflects the positive attachments between all members of the school community.
Shared core values guide every aspect of the school
At the heart of each National School of Character is a set of shared "core values" that express and articulate what the school stands for. All teachers, staff, students and parents describe the school's core values as the "beating heart" that guides every aspect of school life.
The core values guide behaviors in the school, home, and community
Schools of Character foster in their students a commitment to be honest and trustworthy, to use their voice and agency to positively impact their community (school, local and global), and to become capable and ethical leaders who stay true to their moral compass.
National School Of Character Trends
Character Gives SEL It's Why
An evidence-based social-emotional learning curriculum positively motivates students to regulate their emotions and learn from their mistakes. But SEL alone can miss the mark in developing good citizens, neighbors, and future leaders. When it comes to responsible and ethical decision-making, character education provides direction, helps a student find their identity and purpose, and defines what it means to be a good person. Character gives SEL it's why!
<< Watch Character.org President, Dr. Arthur Schwartz, explain how schools can help their students practice the character strengths and SEL skills needed to flourish in school, in the workplace, and as citizens.
Current Schools Of Character
Person Early College for Innovation and Leadership in Roxboro, NC is a unique school that focuses on both character education and college preparation. Through a combination of small class sizes, hands-on learning, and a strong focus on character development, students at the school are equipped with the skills and knowledge to be successful in college and life. The school has a strong emphasis on developing leadership, communication, and collaboration skills, as well as fostering an appreciation of various cultures and perspectives.
Red Bank Charter Academy in Red Bank, NJ is a National School of Character! The school is dedicated to cultivating a culture of respect, responsibility, citizenship, and empathy in their students. They strive to create a safe, nurturing, and inspiring learning environment for all students.
A. Russell Knight Elementary in Cherry Hill, NJ is proud to be recognized as a National School of Character. The school's commitment to building character, teaching respect, and promoting strong ethical values has been key to its success.
Need more information or have questions?