Character-Inspired Organization
I had the honor to talk with Scott Raecker, Executive Director of The Robert D. and Billie Ray Center at Drake University in Iowa
The mission of The Ray Center is to improve civility through character development and ethical leadership. The Ray Center is also the global provider for CHARACTER COUNTS!, founded by Michael Josephson and the Josephson Institute of Ethics.
Dr. Arthur Schwartz, President, Character.org
Q: Scott, some of our readers may not know that CHARACTER COUNTS! is now part of The Ray Center. How did that happen?
Everything can be traced back to Governor Robert D. Ray, who founded the work of what is now The Ray Center as a lasting legacy to the Iowa Sesquicentennial in 1997. That year Governor Ray and our team canvassed the nation to find other organizations working to improve civility through character development and ethical leadership. We met Michael Josephson and learned more about CHARACTER COUNTS! (CC!). Soon thereafter we entered into a handshake agreement with Michael to mobilize CHARACTER COUNTS! initiatives in schools, youth organizations, and communities across the state of Iowa. Through this arrangement we experienced firsthand the effectiveness of CC!
Q: And now The Ray Center is the global home for CHARACTER COUNTS!
Yes. What started as a handshake agreement with Michael became a robust partnership over the last two decades. During that time I was honored to join the Josephson Institute Board and served for a brief time as interim CEO. It was at that time that my relationship with Michael grew significantly. We have established a level of trust over the years, and as Michael was planning for his retirement, we started to discuss the possibility of The Ray Center acquiring the global rights for CC! and Pursuing Victory With Honor.
Q: Do you feel a sense of responsibility to continue Michael's enduring success and impact?
Of course. One of the key components of trustworthiness is loyalty, and I feel a great sense of loyalty and responsibility to both Michael and Governor Ray to help make their respective visions of a better world become a reality. Our acquisition of CC! is not as a caretaker. Not at all. Our mission is to evolve and enhance a successful 30-year brand in a way that will continue to advance mission impact. We need to offer new resources. We need to grow CHARACTER COUNTS! We need to ensure that our work is always meaningful, measurable, and sustainable.
Q: How did you end up at The Ray Center?
In the mid-1990s, I was living in Vail, Colorado where I met a beautiful woman. Martha and I got engaged, married, and we realized that we both wanted to move back to Iowa where we both grew up and could be close to our families. In 1992, I was fortunate to be hired by former Governor Ray to become the Executive Director of the Iowa Sesquicentennial Commission. As the Sesquicentennial evolved, Governor Ray continued to focus on the legacy that ended up being our work to enhance civility through character development and ethical leadership. As the Sesquicentennial concluded Governor Ray asked if I would stay on to get the legacy effort started. That opportunity has led to what I consider my life's work and calling to positively impact the lives of others.
Q: What is your elevator pitch about CHARACTER COUNTS!?
CC! transforms lives and strengthens communities. If done right, you will become a better self, a better spouse or partner, a better parent, and better neighbor. CC! can help people become their best selves.
Q: You have been involved in character development for many years. Do you have one "shining star" moment?
Actually, it was two moments. In August 2019 Michael and I were in Tulare County, CA where over 130 schools throughout the county use CHARACTER COUNTS!. We were in a HS special-needs class. When the teacher met Michael Josephson, she broke into tears as she shared the life changing impact that Michael and CC! had on her ability to engage her students into productive citizens for the last twenty years. It was a powerful moment.
Q: What was your second moment?
Later that same day I was at the Tulare County Fair visiting their Six Pillar display. I saw a group of kindergartners lead a presentation about the Six Pillars. Afterwards, the teacher introduced me to the mother of one of her students. The mother was in her mid-20's. I quickly learned that she had this same teacher, and she had learned about the Six Pillars all those years ago. What really got me was when the mom told me she is a better mom because she uses the Six Pillars to guide her parenting. Because I know the joy of being a better parent through the Six Pillars, it was an emotional moment.
Q: Let's talk numbers. What is the current scope of CHARACTER COUNTS!, in terms of the number of schools and programs that extend beyond schools.
We are currently serving 8 million youth in thousands of schools, youth serving organizations, and full community engagements. The number of schools would be in the thousands, and while predominately in the U.S. we have active engagements across the globe.
Q: What about impact?
Recent research from the CHARACTER COUNTS! program in the Buffalo Public Schools shows that our program produces positive academic change. And that teachers and school leaders see the benefits of our program. The evolution of research in the field is critical. We assess both levels of implementation and outcomes to triangulate the data to show impact, and maybe more importantly, as a tool to engage educators in their ongoing professional development. Our implementation assessment was developed at the Research Institute for Studies in Education at Iowa State University. The assessment uses The 11 Principles Framework from Character.org as the foundation.
Q: From the perspective of leading a non-profit organization, what keeps you up at night?
Well, I do my best not to stay up at night. But I have been thinking a lot about the scale and scope of our work and how we can impact more lives. I think about how we can connect the silos within the field to maintain our own identity and at the same time come together to accomplish even more. And of course, I think of how our work in civility, ethical leadership, and character development are part of the solution to the challenges of the day including the response to the health pandemic and related financial uncertainties. We also must address the racial inequities and the growing polarization of our society. We all have to be part of the solution.
Q: What about the future growth of CHARACTER COUNTS!?
I am always thinking about how we empower the leaders in schools and communities to take more ownership of the work? How can we build even more interest and enthusiasm? It's one thing to check the box. But how do we get family, school, and community engagement at the highest possible level for maximum impact?
Q: How do you know when it's really sticking to the hearts of people?
What I am always looking for is intentionality. I am always listening for whether people say CC! is something "we do" or if it's part of "who we are." I like to think of it as "in, with, and through." Is CC! in every area of the school, from the math class to the lunchroom? Is everybody involved with the program (from teachers to bus drivers)? And finally, is the program being implemented throughout the school community (from discipline practices to parental involvement)?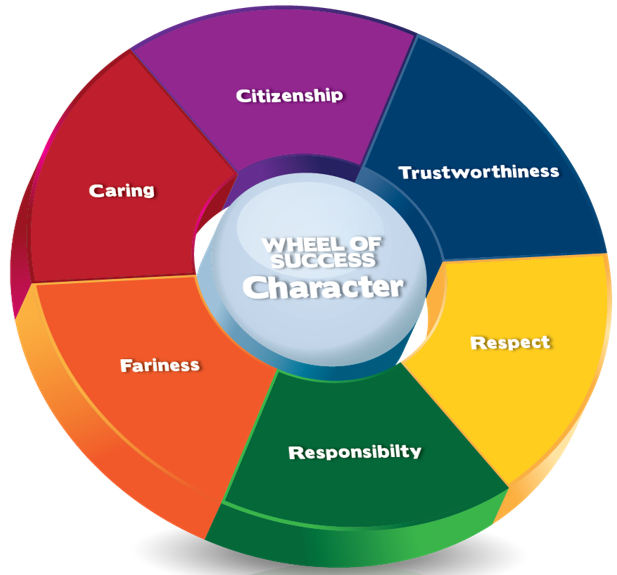 Q: On a personal level, what do you know about character development that you didn't know before you started to lead The Ray Center over 20 years ago?
What I didn't know before was the depth of the growing science of character. I am a pragmatist. I was predominantly focused on practical application and how we could get more families, more schools, more communities involved. My involvement in the CC! framework has shown me that we can help families and schools be more intentional. We can offer a set of Model Standards to help schools focus on the right things. We can research and assess what works and what doesn't. I guess what I'm saying is that I have seen CC! go through an evolution, and I think it will continue to involve.
Q: So what's new? Where do you see growth opportunities for CC!?
The current realities have required a pivot that has enhanced our abilities to deliver on-line training and resources. We are digitizing many of our curricular resources. I am also excited about our early childhood CC! initiatives that are growing in the U.S., China, Colombia, and Bolivia. I am enthusiastic about deliberate collaborations with other 'like-minded' organizations that are producing new opportunities like the launch of our App. Finally, I am excited about our new "Essentials" initiative.
Q: Tell us more about "Essentials."
It's a curricular resource designed for middle schools and high schools. This has been an area of growth emphasis for CC! We have collaborated with the Excellence with Integrity Institute to utilize their 30 years of grounded theory research to develop and deliver resources in 10 focus areas that are particularly important and timely for teens. Everything is digitalized. The PowerPoint presentation. Facilitator guide. Handouts. We designed it for teachers who may only have 15 minutes or a full 50 minutes.
Q: What are some of the 10 focus areas?
Goal setting. Growth mindset. Leadership and service. Putting integrity into action.
Q: On a personal level, what orients your moral compass? What is your North Star?
The Six Pillars are my North Star. And I am by no means Six Pillar perfect. We can all get better. But as I shared with you earlier, I am a loyal person. I believe in being trustworthy.
Q: Is there one pillar that you are focusing on right now?
For me it's how to take the pillar of caring and turning it into love. Love of work. Love for the people you work with. Love in action, even for those I am frustrated with. We need more love. This goes with what I was saying before about racial inequities in our nation. Caring is a big North Star for me right now.